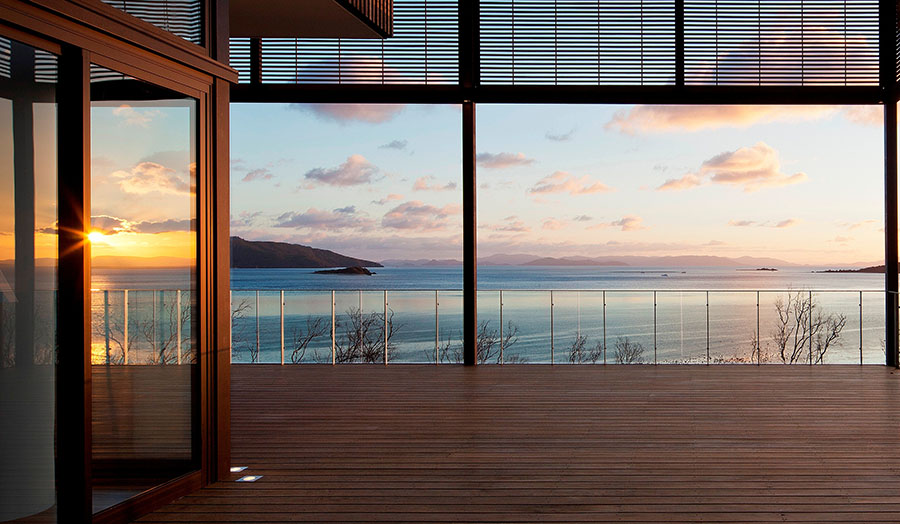 Transform your commercial or residential space with our safe, modern and elegant glass balustrades. Thump manufacture and supply a comprehensive range of internal and external glass balustrade systems with handrail options that meet all relevant Australian Standards and will expand the design potential of your property.
Our series of frameless glass balustrades are suitable for any decor, offering sleek and durable fencing solutions for pools, balconies, entertainment areas and staircases.
All Thump frameless balustrades are designed and manufactured in Australia from 316 grade stainless steel. We service many locations across Australia – including Sydney, Melbourne, Perth, Brisbane, Tasmania and Adelaide.
Please read on for more details about each glass balustrade system in our X1 series.
Frameless Glass Balustrades
Fascia Fixed Balustrade
Our Fascia Fixed Balustrade system is specifically designed to be secured to a slab or fascia beam for maximum safety and appeal. This particular frameless balustrade can withstand a crowd loading of 3.0kN/m, so it is suitable for crowded commercial areas including shopping centres or classrooms.
Core Fixed Balustrade
The X1 Series Core Fixed Balustrade system is designed to be installed on a concrete slab or block wall. Depending on your design preference, you can choose a round or flat handrail. This balustrade system is best suited to the edge of a concrete balcony or pool fencing and has a maximum load of 3.0kN/m.
Top Fixed Balustrade
Top Fixed Frameless Balustrades are suitable for surface mounting to the floor structure and can also be installed with a round or flat handrail section.
Tread Fixed Balustrade
If you are looking for a safe and stylish balustrade for a staircase, our Tread Fixed system is the perfect solution. It is designed to be fastened to the back edge of stair treads and offers the option of a round or flat handrail.
Point Fixed Balustrade
Maximise your view with the minimalistic and contemporary Point Fixed Balustrade system. These frameless balustrades are designed to offer the most unobstructed view possible while maintaining uncompromising safety. A handrail is required where there is a fall greater than 1m.
Call us today on 1300 310 176 or email info@thumpaf.com and we'll contact you about your glass balustrade needs.