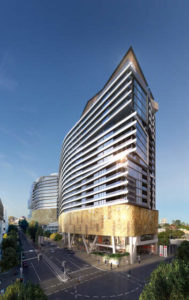 On completion, Southpoint Office Tower will sit proudly within South Banks beautiful scenery and rightfully so.   This building is spectacular and Thump Architectural Fittings is proud to have our X1 Series frameless glass balustrade prominently displayed upon it.
Located on the corner of Grey and Vulture Streets, the 21-level transit-oriented development has a gross floor area of 48,000 square metres comprising 24,000 square metres (NLA) of A-Grade commercial office space, 3,000 square metres of ground floor retail and dining, a gymnasium and basement parking.
The heritage-listed Collins Place will become the centrepiece of the project, linking the new ground-floor retail esplanade to the adjacent Southbank railway station, which will also undergo a major upgrade including new station facilities, a ticket office and sheltered passenger waiting areas.
We're looking forward to bringing you photos of the completed project as it will be spectacular!
« The Highgate Update – Southpoint Office Tower: Flight Centre Global Headquarters »